Tree houses glamping France: adventurous camping in a tree house! Glamping is hot! Did you, as a child, already build tree huts or do your own children really like that? Book a holiday in a tree house. With GlampingCamping you can rent a tree house in France and stay in the most beautiful and luxurious tree houses in France. Take a quick look at the range of tree houses in France!
Tree houses glamping France
Tree houses glamping France: sleeping in a tree house is not reserved for adventurers only. Especially families can decide staying in a tree house in France. A special experience to wake up surrounded by branches and treetops. Several French campsites offer this glamping option. Rent a tree house or even a water lodge. This will make you an unforgettable holiday!
Climb a tree!
The expression: 'Go climb a tree!' can be taken literally at campsites in France if you rent a tree house. Spending the night in a tree house is adventurous and children will remember this special experience for a long time. If you see the photos on GlampingCamping of tree houses, then you are hooked… and you can rent your tree house right away.
An unforgettable stay … in the middle of nature. Come for a romantic stay as a couple or with family to the domain of our Tree Houses. A beautiful forest is home to five beautiful cabins. They are housed in hundred-year-old trees with a view of the beautiful nature. You will sleep, lunch and dine in the company of squirrels and singing birds. Rest is guaranteed on the property. You can relax where no one will look for you! You will find this in the Champagne Ardenne at 1h30 from Dijon, Nancy and Besançon, 1h45 from Nancy, Troyes 2h, 3h30 from Paris, Lyon or Strasbourg, Lausanne, Geneva. If you come from abroad, L'Arbre à Cabane is less than 3 hours from Luxembourg, 4 hours from Bern and 5 hours from Brussels. NEW in 2019: two magical tree huts for up to 8 people.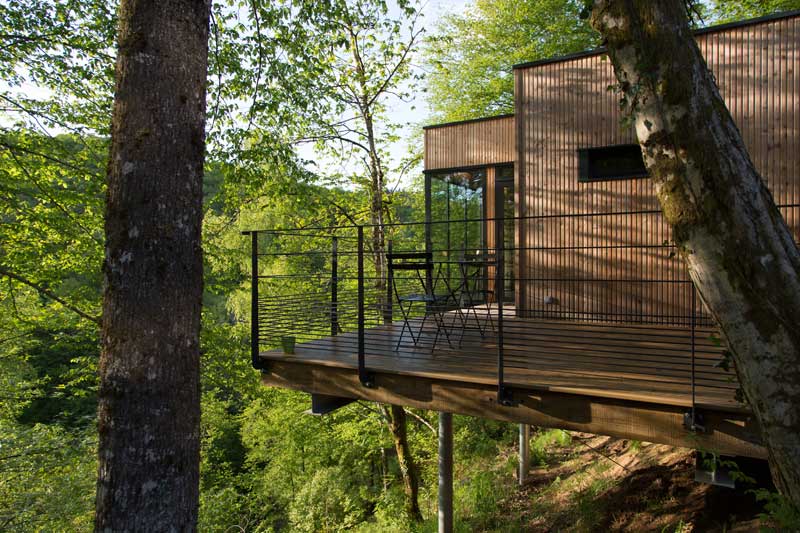 Les Cabanes de Salagnac is situated on a beautiful 40 hectare estate with 6 contemporary cabins suitable for up to 4 people in a unique setting. In perfect harmony with nature, at the forefront of all environmental technologies and furnished with the utmost care. An innovative project with respect for nature. The rates for 2016: the first night is € 210, – including breakfast and linen. The second night costs € 190, – and three nights or more are € 170, – per night. A week reservation is also possible for € 1100,-.