Peace and space amidst the French nature side.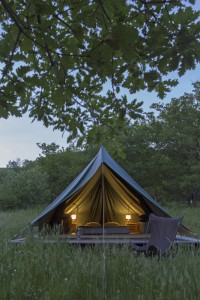 A moment of escape from the daily life of stress at work. No hurry but genuinely finding peace and quiet in the beautiful French nature side. Staying overnight in a spacious tent or hut. In all its simplicity but with the comfort of a true home. You can have all of it on one of the Huttopia campsites.

On this website 36 of the Huttopia nature campings in France are mentioned. An ideal romantic holiday for a couple or cozy enjoyment with an entire family. Also, for your children camping with Huttopia in France is an adventure in itself.
7 Huttopia locations highlighted
Waking up with the scents of oak trees, the humming of birds and the murmur of water in the pond. Huttopia is offering this piece of paradise on earth. With yourglamping you can travel to these unique camping destinations in France.
We randomly placed these Huttopia campsites.
Forrest camp Huttopia Lanmary
'Camp Forestier Huttopia Lanmary' lies in the community Antonne-et-Trigonant in the French department of the Dordogne. You will stay the night in a forest in one of the canvas and wood accommodations. On site, you will find a café and a restaurant. You will also be able to bake pizzas over a wood fire and a heated pool is at your disposal. More about Forrest camp Huttopia Lanmary. More about Forrest camp Huttopia Lanmary..
Huttopia Senonches
In between Paris and Normandy, you will find glamping site Huttopia Senoches. Staying overnight in a Canadian tent is one of the options here. You will sleep in fine beds. Also, on this glamping location, you will find a restaurant and within short reach, you will be able to do beautiful hikes or swinging your fishing rods out over water. More about Huttopia Senonches.
Huttopia Dieulefit
Huttopia Dieulefit offers accommodations (luxurious tents or wooden cabins) for 2 to 6 people. Surrounded by oak trees, heated swimming pool on site and family activities for children in July and August. This makes your holidays an instant success at Dieulefit. More about Huttopia Dieulefit.
Huttopia Rambouillet
Huttopia Rambouillet is at only 45 minutes from Paris, so the city of love is not far away during your stay. Huttopia Rambouillet is an ideal location to find peace in the wilderness. Besides, it is an ideal location for sports as well: rental bikes can be hired, you can enjoy swimming in an ecological pool or play a few sets of table tennis. More about Huttopia Rambouillet.
Huttopia Rillé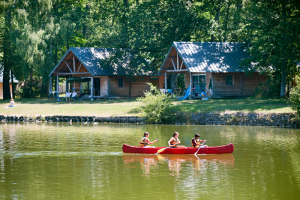 Situated in the Indre et Loire area in the region 'Centre' glamping facilities of Huttopia Rillé once more submerges you in nature with a view on lake Rille. In its vicinity, the Loire castles are located. Its accommodations fit perfectly in the natural environment. (A special tent for couples is at your disposal) More about Huttopia Rillé.
Huttopia Versailles
A perfect location to combine a riveting city excursion with a peaceful holiday. Huttopia Versailles is only at 20 minutes by car from the Eiffel tower. And its famous Versailles castles are at a mere 3 km from your home base at Huttopia Versailles. You will have everything within reach for an unforgettable holiday. More about Huttopia Versailles.
Huttopia Sud Ardèche
This location at Huttopia Sud Ardèche in Vagnas, France combines comfort with natural surroundings. Offering a heated swimming pool, children's playground, pizza-grill along with accommodations that take your breath away. More about Huttopia Sud Ardèche.
In case you do not master the French language, the proprietors speak perfect English to help you out in any possible way.
Have a look at the entire range of Huttopia campsites in France.